Description
FFESSM LICENSE RENEWAL WITHOUT ANY MODIFICATION INPUT, WITHOUT UPDATE.
If you buy an Aquadomia course, the licence will cost you only 40.74 euros.
Renewal made within a fortnight after validation of your payment.
Renewal within two weeks after validation of your payment

Since the start of the 2019 school year, FFESSM licence cards are now perpetual and dematerialized. The licences subscribed since 15/09/2020 concern the 2020-2021 season.. They are valid until 31/12/2021.
What is a "perpetual" licence?
The FFESSM licence is now "perpetual", i.e. it does not have a maximum printed validity date. In other words, you will no longer receive a card each time you take out a new licence. Each year, we issue some 150,000 licences, which is as much less plastic consumed by the FFESSM each year.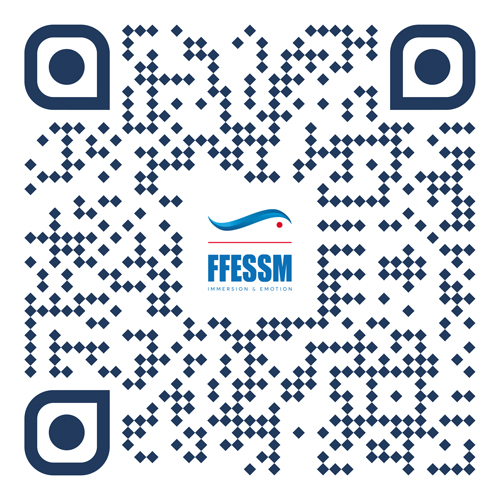 It is also "dematerialized" because its QR code contains all the information of its holder such as its date of validity, the diving club to which it belongs, the identity card of the practitioner, his certificates, his insurance and possibly his Medical Certificate of Absence of Contraindications (CACI).
What is a QR Code? The QR Code is the cousin of the barcode but may contain a greater amount of information than its counterpart. It is distinguished by a square made up of black and white dots, although it exists in different colours. How to use it? If it used to require a reader or a specific application to read it, today almost all mobile devices are natively capable of doing so. Browsers such as Google Chrome, Firefox or Safari automatically detect a QR Code. On a smartphone, third-party installation is not required, just photograph the QR Code to see the corresponding action. In this case for the FFESSM licence, access to the online practitioner's file. On the practical side, since the smartphone's camera is usually accessible without unlocking it, data access is faster.
What's the point? The interest is twofold. On the one hand, from an environmental point of view, it helps to avoid printing almost 150,000 plastic cards every year. On the other hand, it reduces the burden on volunteers at general assembly receptions, competitions, etc. What is the limit? First of all, if the access to the practitioner's information has always been linked to an Internet connection, the access to the validity of the licence will necessarily go through the scanning of the card. If the QR Code is altered by scratches, it may no longer be readable. As the card is intended to be protected for a long period of time, however, it is important to bear in mind the following points protect the FFESSM license in a portfolio.
FFESSM license advantages.
Only one licence but unlimited access to all FFESSM activities:
Test and initiate yourself to other FFESSM activities (diving, underwater hiking, photo/video, biology, scuba diving, archaeology, underwater fishing, freediving, swimming with fins, sports diving, underwater hockey, target shooting, white water swimming, orientation). Supervised by experienced instructors at your side, in the pool as well as in a natural environment, you will be able to improve your skills, if you wish.
Your license also has a Civil Liability Insurance * included worldwide, for all activities proposed by the FFESSM. Although this is the only legally compulsory cover, the FFESSM draws your attention to the interest in taking out other guarantees** necessary to protect your activities. You are free to contact any insurance advisor of your choice who can offer you coverage adapted to your situation. However, be aware that your license allows you to have many contracts at advantageous prices that have been negotiated by the FFESSM with Axa Corporate Solutions and Axa Assistance by Lafont Assurances.
Every licensee is thus insured for bodily injury, material and/or immaterial damages for which he would be responsible towards others.
** Individual Accident Recreation 1, Recreation 2, Recreation 3. This optional but highly recommended insurance covers the licensee for his own bodily injury (including the cost of the chamber) without an identified responsible third party. These insurance contracts (negotiated with Axa Corporate Solutions and Axa Assistance by Lafont Assurances) offer you one of the best coverage available for diving, valid anywhere in the world, for all the Federation's activities, also for your equipment, your boat...
Find out more about the FFESSM insurer's site
Discover the many discounts and promotions (equipment, infrastructure, transport, ...) offered by your license. For you, licensees and clubs, the FFESSM has set up several partnerships.
Take a ride on the shopyou are entitled to licensed rates and benefit from an advantageous rate for the subscription to SUBAQUAthe federation's magazine, a concentrate of information on the world of diving and underwater activities not to be missed!
Thanks to your commitment, the FFESSM will be stronger and will be able to defend your interests and rights even better.